Obsession for shoes
New high heels
What do you do when you dont have space for all the shoes?You move to a bigger house,buy a new rack for them and start to fill it with new pairs!All carefully polished and lined up in order of occasion and colour.Sliding into high heels makes Me feel powerful,taller,stylish and sexy!
I like shoes so much, I dedicated a whole room just for them.Heels, flats,stilettos,wedges,peep toes,sandals,you never know what pair you need for a special occasion,so need to be prepared!Plus,it brings Me so much joy to hunt for shoes,feel the heart race when looking at some new ones,need to make them Mine!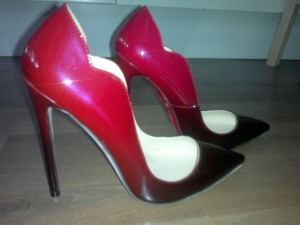 And when the heels are being bought by My slaves, its even better!Like this new pairs I got few days ago.Black and red with long stiletto heels,they look and feel fabulous on My sexy feet!The slaves that saw Me in them felt the need to suck the heels from first seconds and got so hard when I wanked the heel with My hands like its a dick!;))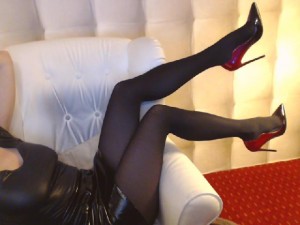 Not to mention how deep the heels can go into a pair of hard balls or even in the peehole of slave!I love to walk on a slave naked body wearing just sexy heels!Step and even dance,using his body as My dance floor until he beg Me to stop and let him suck them clean.If Im in good mood,I milk his dick right inside the shoes and humiliate him to lick it clean after!
And then its the smell…the powerful smell of used shoes after I had worn them a full day or night out.Removing it slowly right in the slave face,make his nose to go really deep and take big sniffs,intoxicating his brain and becoming so addicted.He will have My feet perfume in his nose days after!
Its time to get down on your knees and worship My dangling feet in heels!